Anyone selling anything on the internet these days has probably once or twice thought of WooCommerce. This is the go-to solution for people selling things online, not only because it integrates seamlessly with WordPress, but because of the wide variety of extensions available. All of this is there for you to help you out with any ideas you might have for the way you sell things.
There are some businesses that need a bit more from their WooCommerce website, so they introduce software like Frase to enhance their content and orient it directly to their audience, or Brandox for handling all of the brand assets from a single platform. But there is no such thing as one size fits all, and your website should be modified to please your customers. User experience is the key player because, with so many eCommerce websites out there, no one needs to waste their time figuring out yours.
Quick view is undoubtedly something that is beneficial for quite a number of websites, yet they seem to be slow to incorporate it. Not all products need their separate pages like they have on Amazon. Some of them need just a quick preview, and the option to be added to the cart.
When do I need Quick View?
The team experiencing the need for this efficacy are the artists. Art, graphics, and photography products tend to speak for themselves. Their clientele might want to know the size of it from the description. Still, apart from that, whether they will make a purchase or not depends entirely on whether they like what they see, so it's important to present them with high-quality images from sources like Depositphotos or Yay Images.
If you give them the important details and add a quick view pop-up with zoom so that they can inspect it in detail, your job on such a website is done. There is no need for you to waste both your and their time in adding an unnecessary additional page. Truth is, that specific product's page will have descriptions they likely don't really care about.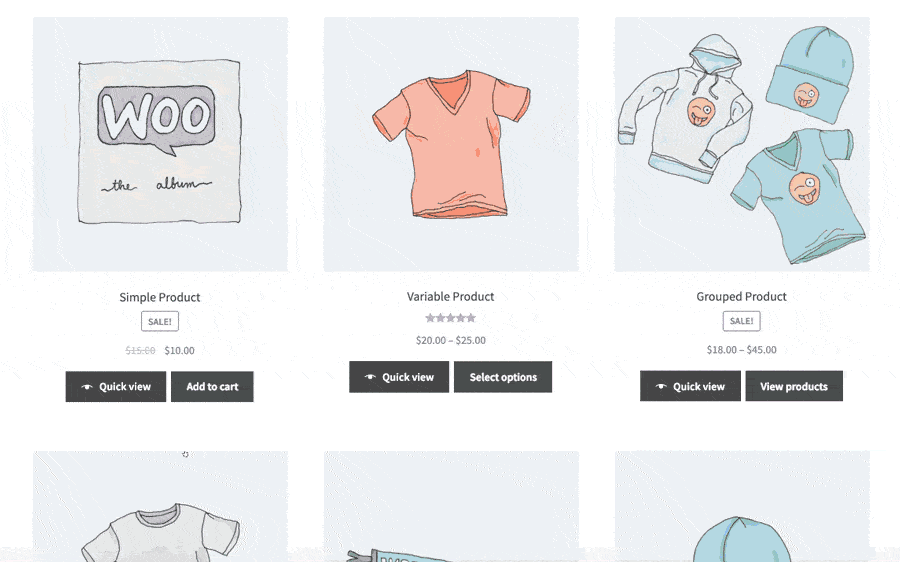 It goes another, the relatively same way, with musicians and their music. Whether the user is going to make a purchase is only about if they like what they hear. So wouldn't adding the short description in a quick view popup with the audio be an awesome solution? They get to hear what they need to hear to decide whether they want to have it. On the other hand, you don't have to struggle with creating the new Youtube.
Same goes if your music is accompanied by a video, or if you are tackling the video production. Why not use the opportunities of a quick view to create some Hitchcock-like tension with a carefully selected teaser? This will perfectly show off what you can do with a camera in your hand.
What if I don't need images to sell?
Well, then, for example, if it is your restaurant's website, people coming to it are probably very hungry. These people and you probably do not need dishes' additional pages for options or information about every specific dish and side dish. They would appreciate if the process they have to go through to get the food delivered to their door is as fast as possible. Adding a quick view for them to see what they are getting and the opportunity to put the food in the cart could save them precious minutes, and you, precious customers.
However, the most common usage of this quick preview feature can be found in wholesale WooCommerce stores. Wholesale is in its essence designed to make someone's life easier and to provide people with the opportunity to buy a lot of things rather quickly. It is expected, and for a good reason, that these people are already familiar with the product they are buying, and that they do not need any description or additional information about it.
These customers, keeping in mind what they need and that they need to get it without having to waste a whole day putting things in the cart, appreciate the efficiency the quick view provides. They do not need to see the product's picture either. So wouldn't a quick view with just the product's number be an incredible timesaver for those customers?
Yet, the big question is how to achieve all this, without wasting too much time, resources or energy on it? After all, you are trying to speed up and optimize the shopping process. So why not do the same for yourself?
What you need to make that possible is WooCommerce Quick View, the best WooCommerce quick view plugin out there.
What is WooCommerce Quick View?
As mentioned before, it is a WooCommerce plugin that will optimize your selling process. It will be providing your customers with much-needed speed and efficacy. Also, it will help you out with accomplishing all this and bringing your sales results to the all high peak. Not only will it optimize the process, but it has several features that will actually pay off.
For example, with WooCommerce Quick View plugin, after someone adds the product from the quick view window to their cart, you can show a success message and automatically close the window. This has proven to be an amazing trick to get your customers to buy more, as they can see again all of the options, and they are likely to make additional purchases while they are at it.
There are a couple more features that this plugin offers, all of which can help you achieve happy customers. Happy customers, are, after all, returning customers. Most importantly, each of these helps you customize the overall process so you can put that feedback you have been receiving from your customers to good use.
Quick view options
Depending on what you are selling, a simple eye icon sometimes may not be enough. It is perfect, though, for the wholesale stores, as they do not require quick preview all the time. Since in this situation they need to be able to find the shopping cart button first, you might want just to put the quick view button next to it for a quick double-check your customer wants to have.
However, if you are selling clothes, art, or anything that requires an image, you need the pop-up that has more information. Being able to preview and read just enough information about the product to make a purchase, can be the gentle push toward buying the item the customer needs.

Once you decide on the quick view defaults, you can further choose which product information you would like your shoppers to see. If you are going with the lightbox for your quick view, you can add a short description, price and reviews of the product in it. Or, you can add meta information, and add to cart button if that fits better. All of the options are available for you to use for creating a quick view that will suit your customers and generate more sales!
Customize the buttons
The buttons are probably the next most important thing you should consider. Every copywriter will tell you that the text on the button has to be relevant, and it has to let the visitor know what they can expect once they hit it.

If you have a restaurant website, for example, and various dishes are making your customers come back for more, you probably need the option which will allow them to select their side dishes or take the ingredients they are allergic to out of the picture. They might need extra noodles or less spicy sauce. So if the button says: "Configure", it will look out of place.
You can do more with this plugin than simply to edit the text on your button. It is possible to choose to not have any text in the first place. If the decision on whether to buy your product or not rests on the beauty of your product, you might want to go just with an eye icon. This will provide them with a better view of your product, without the unnecessary additions.
3 Different Layouts
Not all quick views layouts work well for every product. You have to make them relevant and to make sure that the customer is properly informed in order to make a decision to purchase your product. Sometimes you need to point out images, other times product details are more important. To accommodate all these needs, this plugin provides three different quick view layouts.
You can present only images, the same as the left-hand side of the product page. If you are selling art, you can add a gallery with multiple images together with the main product image. In case the description is more important, you can put it in the focus, by using product detail only layout, which incorporates the product title, short description, and purchase information, for example. Or you can go with both in the third layout option!
Show off the product's images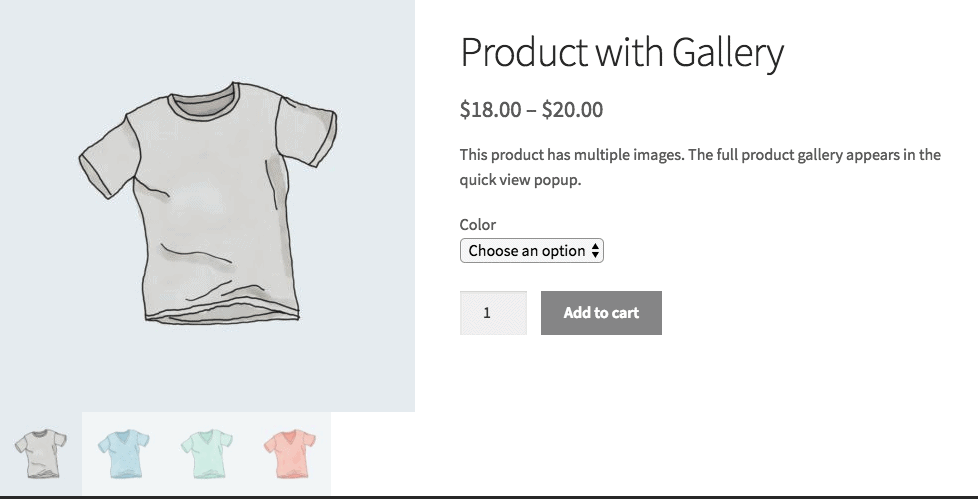 Pictures can definitely make or break the sale, so having the opportunity with this plugin to use them to your advantage should not be missed. In some occasions, a single picture is all it takes. Sometimes, you need to show a different side of the product. Add an image gallery of your product with WooCommerce quick view plugin.
You can present the main product's image, and add clickable thumbnails underneath it so that the shoppers can preview the product properly. To make sure they see it and buy it, you can also enable zoom. This will allow the picture to zoom in once visitors hover over the product image in the quick view pop-up. Perfect for those selling their art looking to show off some skills and the incredible detailing on the product!
All different products
Another good news is that this plugin supports all and any of the WooCommerce different product types. Regardless if you have simple or variable products, quick view plugin is there to show it off. It will have your back with external or affiliate products, and you can also use it for grouped products as well.
Integrations
A unique feature and opportunity presented exclusively with this plugin are 3rd party integrations. Not only that you receive all the options mentioned above, but you are also covered for several other 3rd party options. Some of those are WooCommerce Product Tables, so you can effortlessly show off your products in form of a table, or bundles for beloved deals and offers that customers will not be able to resist.
Dynamic pricing and WooCommerce deposits are also covered with this plugin. And, if your customer is low on cash at the time of landing on your website, you can use the advantage od WooCommerce Wishlist Plugin integration to have them stay on your website nevertheless. In case it seems that they need more information, you can rely on Product add-ons to add the missing information standing in the way of purchase.
Another important integration is with the WooCommerce's 'Redirect to the cart page after successful addition' option. This option automatically redirects customers to their cart as soon as they have added something in it through the quick view. This will save you a  lot of time and effort as you can set this up in a matter of minutes, and your customers will appreciate efficiency and speed.
If you are trying to sell anything using WooCommerce, keep this plugin in mind. Making your customers returning and spending more, by providing them with the speed they are comfortable with, is its specialty.
Still not sure your website will benefit from this plugin? Feel free to try it with the demo!