E-commerce has proven to be a triumphant and stable source for customers who want to buy the products they need from the comfort of their homes. It is also very suitable for good business and successful growth and development of e-commerce.
The WooCommerce platform stood out from the big competition. This platform is one of the most successful e-commerce options currently. As WooCommerce is available within the official WordPress plugin directory, it includes everything you need to set up an online store from the start. However, some questions often arise for some plugins for owners to improve their e-commerce and thus facilitate their business. Of course, all to grow and develop e-commerce. The questions refer to various domains, depending on which field the owner needs relief. Plugins usually help owners well, and they can rely on them. Receiving orders, importing and exporting services and products are just one of the aspects where owners want some help.
Lately, we are facing the fact that owners are looking for the best solution for multiple suppliers. We believe this is your lucky day if you are looking to. We are just ready to present you with a new plugin. Read on.
WooCommerce and Multiple Vendors – What Does It Mean?
When we talk about WooCommerce multiple vendors, we are literally talking about several sellers. If you have a problem with WooCommerce multivendor, you should know that buyers and sellers are not connected in the right way. Your WooCommerce marketplace needs to ensure good connectivity. So, it is crucial to choose the right plugin that will allow you to do that. And how to choose the right plugin? The answer is below.
Number ONE Multivendor Marketplace Plugin for WooCommerce – MarketKing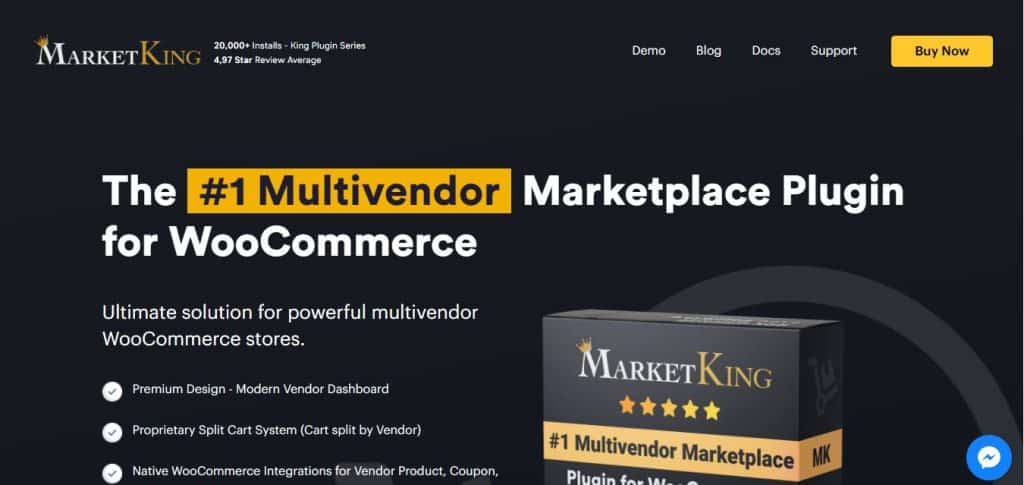 Are you new to the WooCommerce marketplace? Do not be afraid. If you already own an e-shop with WooCommerce, you know how difficult it can sometimes be to run a store. Of course, we are not talking about some minus sides. WooCommerce is becoming more and more popular every day, so we are offered more options and functions. Sometimes we do not even know where to start and what to choose. A million questions over your head.
Number one WooCommerce multivendor marketplace is MarketKing.This new plugin is indeed an ideal solution for multiple vendors. It offers high-class options that will make your business easier. In short, each vendor has its own vendor dashboard, so it can more easily manage all possibilities. For example, it can control products, services, refunds, earnings, etc. MarketKing offers more than 137 functions. It also has 25 optional modules with many options – commission system, SEO stores, seller registration, verifications, etc. MarketKing is similar to Dokan or WCFM. This is a marketplace plugin that will allow multiple vendors to sell their own products on the shop. WooCommerce multi vendor's marketplace is not easy as it seems. That is why you should let MarketKing help you.
On the image below check the MarketKing product box image (https://woocommercemultivendor.com/wpcontent/uploads/2022/04/marketing_box_5.png)

Why MarketKing?
There are indeed many reasons to use MarketKing, but check out some of the biggest benefits of this plugin:
Premium Design Vendor Dashboard
Vendor Product Management – Native Woo Integration – Simple, Variable, Virtual, Downloadable Products (Digital), Inventory Management, Shipping Settings, Upsells & Cross-sells, Attributes, etc
Vendor Coupon Management – Min and Max Spend, Product Exclusions, Usage Limits, etc
Vendor Order Management
Unique Vendor Store & Product Pages
Vendor Earnings, Charts & Reports
Store Reviews & Feedback – Vendors Can Reply or Report Reviews
Favorite (Follow) Stores
Refund Requests – Approval System
Advanced Vendor Shipping by Zone
Color Scheme Customizer for Dashboard
Complex Commissions System – Flat, Percentage, and Combined Commissions by Vendor, Category, Tag
Order Splitter System – Multivendor Orders are Split into Multiple Suborders
More information about MarketKing can be found at: https://1.envato.market/MXvNgY
How to Install and Activate MarketKing
You need to follow a few steps to install this tool. Namely, first visit the plugin download link: https://wordpress.org/plugins/marketking-multivendor-marketplace-for-woocommerce/
After finding the page, check and proceed with our and step-by-step guide on how to install and activate MarketKing.
Log into your WordPress site.
Go to: Plugins > Add New > Upload

Select the .zip file of the plugin and click Install Now
The plugin will now prompt you to install/activate the free MarketKing Core plugin if not already active. Simply click on the "Install" / "Activate" button

Premium Vendor Dashboard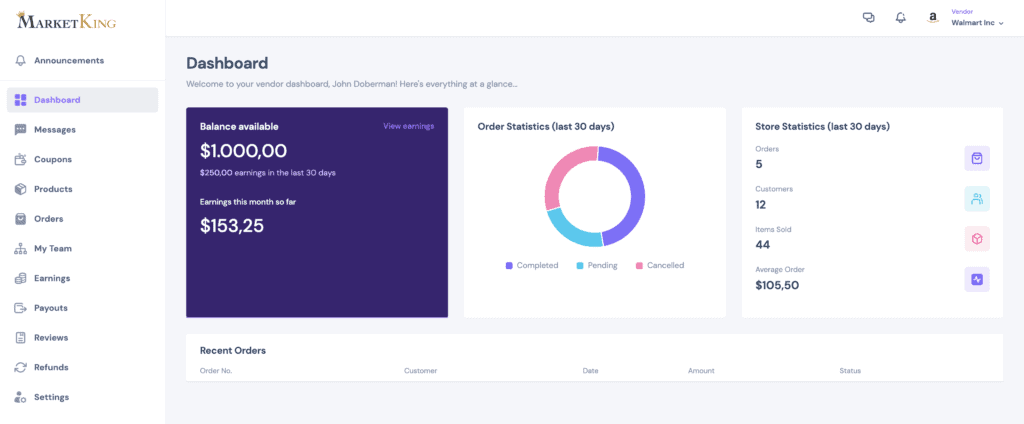 The dashboard can often be a huge problem. But not with MarketKing. MarketKing offers you (we could say almost perfect) a modern control panel of suppliers. The full-screen control panel gives you insight into many functions, panels, and settings. It does not depend on the topic, and on all sites, it looks like in the demo version. The best part is that resellers can manage all the options.
Vendor Product Management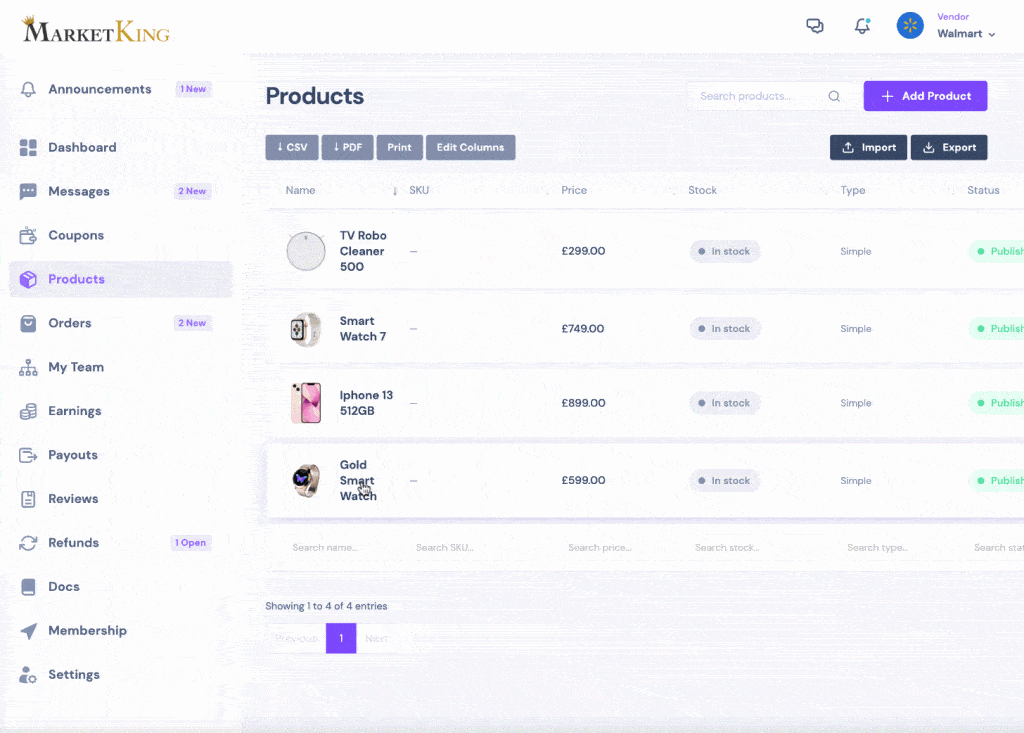 Product management for suppliers is limited on a store-by-store basis. There is a possibility of modifying products, categories, additional sales, etc. Modification is performed by suppliers.
Vendor Order Management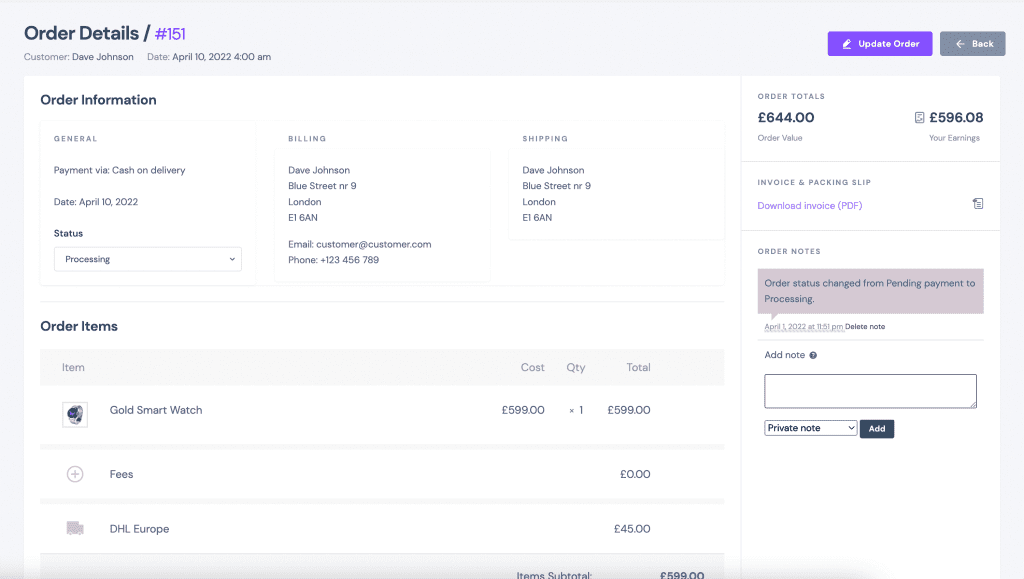 A perfect, modern dashboard allows salespeople to manage their own orders. Vendors can leave additional notes for the order, pick up the invoice, delivery note, etc.
Single Product Multiple Vendors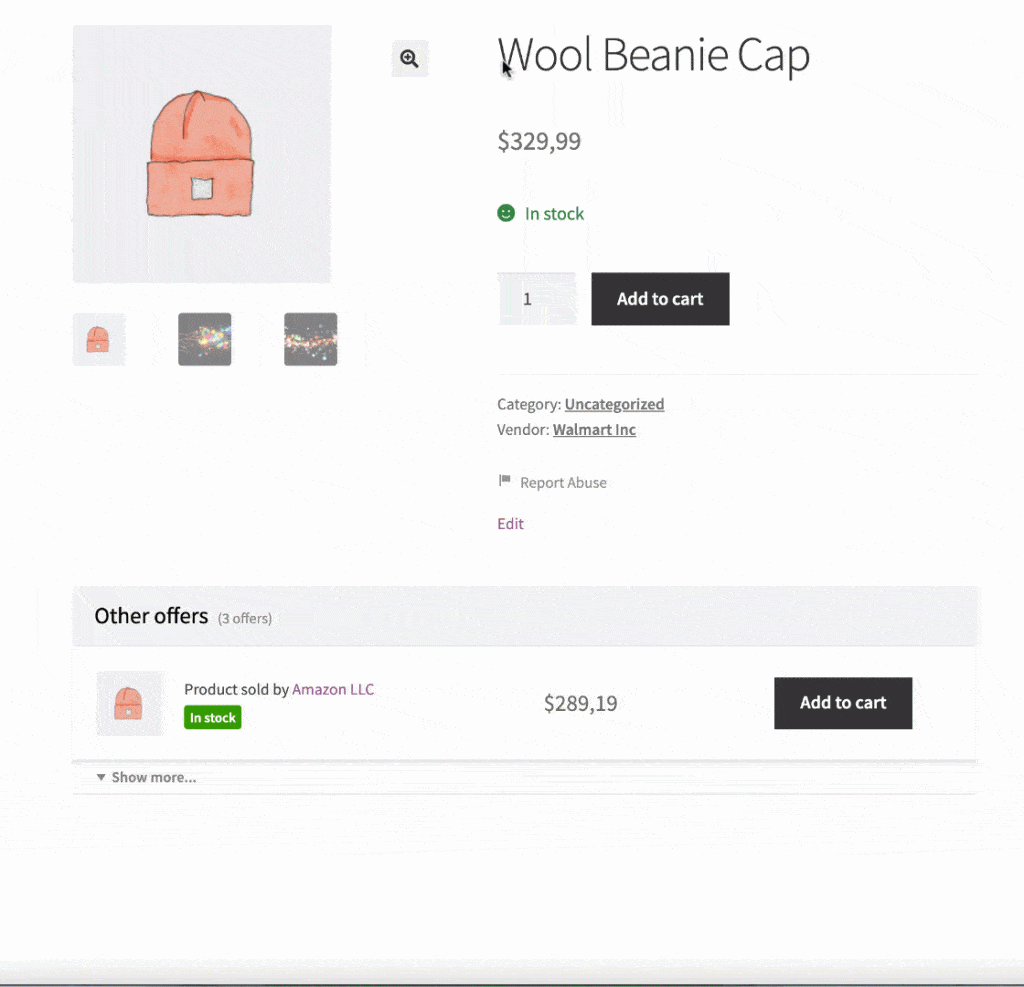 When we connect one product and several vendors, an advanced module will help us. The advanced module has positioning control, inventory and vendor information, and cache. It has a simple button to add to the store, which is so simple. It offers many more options. For example, you can set priorities by price, rating, or inventory. Suppliers may limit sales to only existing products in the store. Vendors can edit products details, images, or prices.
Vendor Products Import & Export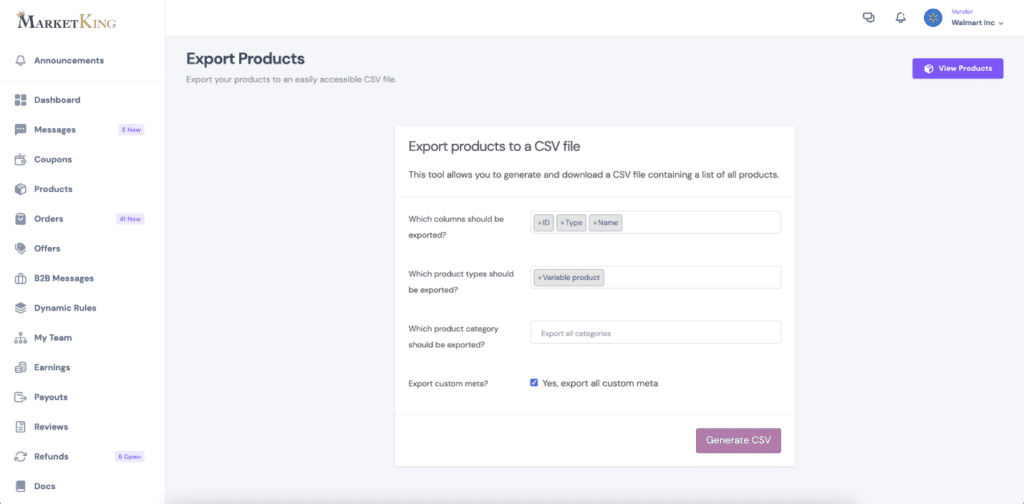 Of course, there is also an import/export module. With this module, vendors can add more products and download CSV product lists. All this via the control panel.
WooCommerce Integration

With WooCommerce integration, vendors can seamlessly manage their dedicated stores. Leading your online store with WooCommerce is easier because there is built-in coupon management and product management with many additional and useful options. With this integration, users can more easily manage products and lists. The user interface is clean, so you can easily manage coupons, products, etc.
Refund          

It often happens that the customer is dissatisfied with the product and so wants to make a refund. In addition to MarketKing, there is a unique page for employers where sellers can approve or reject customers' requests for a refund. Of course, all these requirements can be easily managed via the control panel.
How does it go? If the vendor approves the requests, then the requests go to the administrator backbend. They are processed there, and it is decided whether a full or partial refund will be made to the customer.
Want to know more about the features? CHAT. That is the function through which the seller exchanges or receives information from the buyer. There are other functions: various reports (earnings, reviews, etc.), advanced delivery, color scheme configuration, SEO store settings, etc. It is time to explore a little on your own.
Have you thought about connecting your sellers and B2B / wholesale customers? This is where MarketKing appears as the best and most modern solution on the current market. MarketKing has built-in integration with the B2BKing plugin. Of course, you have to buy and install it separately because B2BKing is a standalone add-on.
You must be wondering what you get with this integration. Trust us, a lot. Vendors, through this integration, can configure:
Prices – wholesale and multiple
Products – e.g., visibility because some products are visible to certain users
Coupons – Coupons can also be made available to some customers while excluding other users
Offers – sellers can create offers and set special prices for products
Requests for quotations – sellers can receive and respond to the offer
It should not be left out that B2BKing is also one of the plugins worth noting. It can certainly offer you many good and quality options! Who controls B2BKing customer groups? Only the store manager, ie. site administrator. The site management decides which groups go to which users. That is why communication between administrators and suppliers is crucial.
Through the integration with B2BKing, vendors can also enter wholesale prices for their products, receive quote requests, set minimum order rules, etc.
Store Reviews
As you can already see in the subtitle, there is also a store review module. Of course, we all want to know if we are good at our job and how we can be even better. Leaving product reviews is a great thing to develop. Here, there is a possibility that sellers can leave a public response to the written reviews.
Pricing
We have different prices for this plugin, as follows:
Free version
Premium version:

Starter- $89 per year
Professional- $199 per year
Business- $299 per year
Enterprise- $499 per year
Free vs. Premium Version
The free version offers Vendor Management, Vendor Product Management, Vendor Dashboard, Vendor Order Management, Payouts Management, Basic Registration, and Approval System, and is Compatible with WooCommerce Themes.
The premium version offers many additional, advanced features. All with a lifetime license. So, with a one-time purchase of the Premium version of MarketKing, you get all the features, future updates, and a lifetime license. Too good, is not it?
You can find a list of features above in the article subtitled Why MarketKing.
Final Words
The ultimate multi-vendor market solution for WooCommerce has finally arrived – MarketKing. You wanted a dream market, and now you have the opportunity to make it. It is the most reliable plugin, for sure. By integrating into the WooCommerce marketplace, you can manage multiple vendors.
We have probably already learned a lot through this article. MarketKing is a plugin for the dream market. For all online store owners, this is actually a goal. The goal is also an increase in productivity and earnings. Through this article, you have probably concluded that MarketKing can help you. Do not question yourself anymore. Try MarketKing now.