If you are thinking that your native or English language based website is enough, you could be right. It does and will cut it, at least according to the statistics. Your native language is probably the predominant language in your country, so your website should reflect that.
Or, if you already went English only, you are still readable by the vast majority of people on the internet. Yet, there are several other aspects of your business you should take into consideration when deciding on your website's language. First of all, if you are selling your products in your country only, then having a website in English does not make much sense, right?
After all, 72% of people admitted to in an online survey that if they do not understand what the product is, they won't buy it.
This is usually if the website is in a foreign language, except English, maybe. In short – "Can't read, won't buy". So you might not have an issue with your native language. Except maybe, when it comes to your competition. Have they already translated to other languages? If they have, they are already beating you to the curb. If not, they are likely thinking about it, and will probably expand their business, making you out of yours.

Another reason why you should consider translating to another language is if you are feeling stagnant in your local market and you are looking to expand. This is crucial if you are looking to enter other, international, markets. Remember the "Can't read, won't buy"?
If you are hitting foreign markets, translating your website is a must, and for quite a number of reasons. One of them that has to be mentioned is the fact that some countries have strict regulations regarding this. In short, you are legally obligated to create a translated version of your website specifically for their market if you are looking to sell there.
Second, there is no point in hitting the international market if customers do not know you exist in the first place. How are they going to find you, if your website is in your native language only? You need to build a global brand, and you need it to be in a language more people can understand.
You probably already have the analytics presenting you with the geographical location of your visitors. This should be a big clue as to what languages your website should be in. Your website is in English, but most of your visitors are from Germany and Italy? Time to translate the website and take their money, too.
There is an important aspect of the SEO that you should consider. Yes, you might be the first result your customers see in your native language when they search for you, but everyone else is likely searching in their own native language, and the truth is, they are not finding you. If you have translated your website, with the traffic you are getting already, you might end up generating much more new customers than you expected.
Then, there is an aspect of trust. If you speak to someone in their language, you are more likely to sell to them, by creating an emotional connection to your customers. Yes, English would do the trick, but the native language of the country's market you are about to enter is a much better option.
Additional bonus points for translation goes on behalf of currencies and measurements. Once the prices are in a currency they are familiar with, they are more likely to purchase the item, as they can effortlessly calculate that in their budget.
Measurements are also important. Think about it – if before they order something from you they have to pass a bunch of measure converters and do the heavy math, they are more likely to go with a local producer that speaks their language. Online shopping should be effortless, not a troublesome conquest of the language barrier.
And last but not the least important thing to remember: once you go global your sales are going to skyrocket. Not only because you are entering new markets, but because you will gain more credibility with a globally familiar brand.
There is also a chance that you already know all this, but adding additional language seemed like a daunting task, and therefore, a task to be left for when the time is right. Truth is, time is probably right now, and it is a difficult task. Yet, it doesn't have to be with the right tool.
Let us show you how with Weglot, you can translate your website in a manner of minutes, and without any tech, or language knowledge, for that matter.
So what is this Weglot?
The definition would be: "Translation API that enables you to install it and handle all the translation yourself". Yet, the truth is, this API is a lifesaver for people who are just starting out, DIY website owners, and even experienced translators and developers looking for a shortcut. It is really useful for anyone willing to tackle the translation of their, or someone else's website.
It is extremely simple, straightforward and effortless to use, and with it, you would be gaining visitors and traffic from all around the world without breaking a sweat.
How is this possible?
When creating this API, the developers had the idea of helping people grow their business into a global one. As we mentioned before, having a single language website can really stagnate your growth, and limit the amount of traffic your website is getting. Not to mention the potential sales you are losing, as people tend to purchase what they understand.
This is why this API enables you to tackle this daunting task in one of the most effortless way possible. Everybody should be able to do it, and they made sure that all the needs you might have for your translation are covered.
No need to go Geek
First, and most important feature of Weglot is the fact that it requires no technical knowledge to set up and use. It doesn't require you to have developers, either, or to trouble the ones you already have. You can set up your second language version of the website in less than 5 minutes, and you can do so for as many languages you might need or find useful for your business.
Worrying about coding?
The feature that allows you to install it, set it up, and use yourself can seem like a lot of empty talking. It must be impossible for a non-techie to set it up and for it to work seamlessly, without having to bother the developers.
Truth is, Weglot actually does support all major platforms. Integration is effortless, regardless of platform or technology. From WordPress to Laravel, you will be able to set it up. Even if the platform is not supported at the moment, it is very likely to be anytime soon!
A hundred ways to say the same
It would not be this useful if it limits you to a couple of most popular languages either. Quite opposite, this API allows you to choose from over 100 languages so you can be sure that all the languages you would need will be supported with it. It is up to you to choose the market, and the language will follow.
Hand in hand with the design
Yet, translation can sometimes be troublesome, as the translation of a language does not always contain the same characters, or amount of them, which can easily mess up with your design. It is no wonder that copywriters work tightly with designers, and is not uncommon that they rewrite the same headline over and over again, for it to fit a designated space in the structure of the landing page. One single letter can ruin the perfect design of a website, so this task should not be taken lightly.
With Weglot, the designer is not necessary and it takes this trouble out of the picture because it has an in-context editor. The editor allows you to see, translate and edit the content in the same, already set design. This helps immensely, as you can see what the copy would look like in your designated language, and you can tweak and edit it to make sure it is a perfect fit with your design and website structure. No worries about rogue letters, as you can see them before they create a problem.
No rogue letters
If you already thought about the languages you would like to incorporate and have already chosen your translator, or team of those, you can invite them to collaborate with you inside the interface. No more complicated Google docs, or Word documents. Let the translators do what they do best, and you can guide them so that the translation fits and is not a collaboration of negative surprises.
No translators? No problem
If the idea has just crossed your mind, and you are exploring the idea, you probably do not have several translators standing by. This is also not a problem, and there is no need to worry. This API provides you with options to use artificial translation or even human one!
If you are in a hurry or are just looking to explore and test your options, the first line of translation can be created using artificial translation. It is provided by the best machine learning providers, such as Google, for example. Therefore, you might be good to go even by using just this translation for your website. Once the first, artificial translation yields results, you might want to add a bit of human touch to it.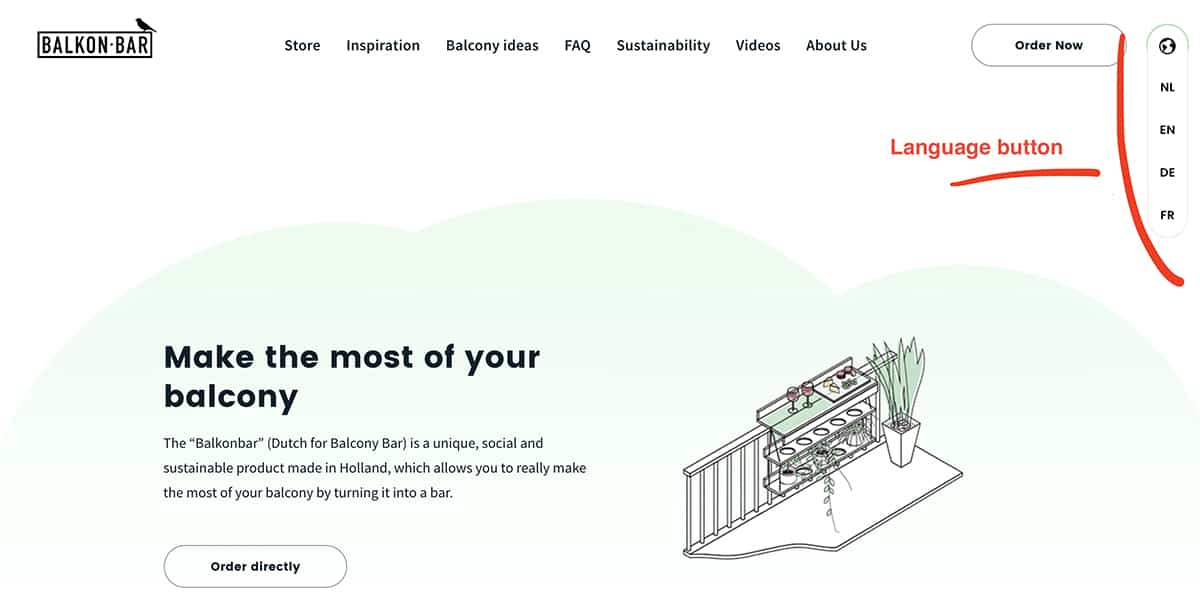 Weglot can help you with finding the best person for the job, removing the troubles of finding the right translator for the right price. Inside Weglot's interface, you will be able to hire professional translators, regardless of the language you are looking for. These partners are carefully chosen and tested, so to deliver the best translation possible to their users.
This removes the trouble of doing the actual translation and all the miscommunication with potential translators that can occur while tearing down the international walls.
Need to impress Google
Let's be honest, SEO is very important, and you need to impress Google in every language you are looking to translate to. This worry is also taken away from you, as this API follows each and every one of Google's best practices when it comes to multilingual SEO.
The customer is always right
Another thing to consider is the user experience on your website. After all, you are doing the translation to keep them happy and eager to spend in the first place. Yes, most of the users are already accustomed to having to change language manually, but what if that wasn't the case anymore?
Weglot can help you with this, in the best way possible.
Since all visitors have a preferred language set in their browser, Weglot will automatically present the content in the preferred language. They don't choose language manually, you are talking to them in their own language from the start.
The other content
It could look rather unprofessional if your website was in Italian, yet the newsletter hits your Italian visitors in English. You got your visitors to leave you their email on your Italian-based site, they deserve the newsletter they can read and decide to make a purchase in the same language.
When translating, you want to make sure that each piece of the content that converts ever created for your business is in the targeted language. Use Weglot to translate everything, from pop-ups to newsletters.
So, in short, with the right API, translating your website and all the benefits that it brings, is at your fingertips. Considering that you can do it yourself, without having to know any foreign language or any coding language, you should start translating your website today!