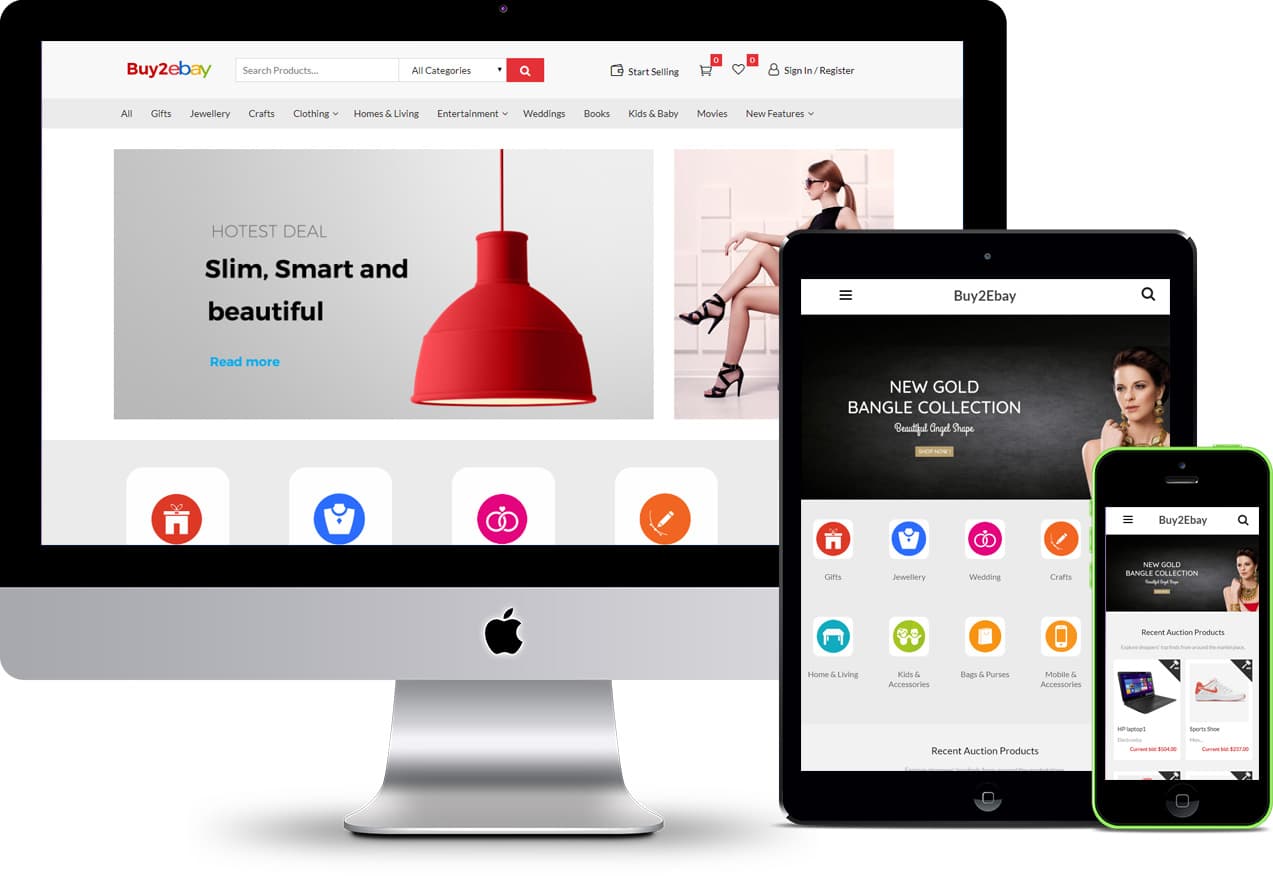 eBay clone script, which is perfect Multi Vendor Marketplace WordPress theme. Create your own eBay style website by using our eBay Clone wordpress theme. Download our ebay clone script Free demo available. You can use this theme as Etsy clone script , eBay clone script , amazon clone script , aliexpress clone script, alibaba clone script , themeforest clone script and more, multi vendor marketplace scripts.
One of the most important selling points of any website today is the UI (User Interface). The importance of this aspect has become so important that the position of frontend developer, a career that was mired in obscurity only a few decades ago, has now become one of the most sought after careers of the tech scene in the 21st century.
This is no coincidence. In the online world, perhaps even more in the physical world, the customer is the focus, and their experience is what makes or breaks an online company. You therefore can't take chances with the appearance of your website, so regardless if you're using Depositphotos, Pixlr or StockUnlimited, your visuals must be on point.
One industry where the frontend matters just as much as, if not more than, other components of the website, is ecommerce. Here, there are a lot of factors that come into play. To begin with, the site definitely has to look appealing and inviting for the casual visitor. It should also be optimized to entice the user to want to make a purchase.
There are already a lot of proven UI models out there that attract and retain customers time and again. Major internet companies invest all the time, skill, and money into designing these UI models in order to maximize their revenue.
You can. Of course, invest time, skill, and money into coming up with a custom UI for your own ecommerce website, but why reinvent the wheel? We went out there and scripted models of the best UI designs that currently exist in the ecommerce world. These UI designs have been proven to work and convert visitors into paying customers in no time. One of these is our eBay WordPress theme.
eBay WordPress Theme
Our eBay WordPress theme is proven to work, as many customers who have successfully used it will attest.  The system has various features which make the process smoother for your users. They include:
Responsive Design

– Our eBay WordPress theme is well-designed to be responsive on all types of screen sizes. This makes the website appealing for the user and efficient no matter what device the user is using.

Multiple Payment Gateways

– Our theme allows users to pay for goods using different gateways, including credit cards and Paypal. Your users don't have to worry about what payment platform to use with the eBay theme because the whole process has been made easier for them.

Multivendor Support

–

Our theme supports different vendors, offering the user a wide variety of choices.

WordPress Yoast SEO

–

Our site already has the right SEO to ensure that your site has maximum visibility and makes it to the first page of Google's search engine results page.

WordPress

–

Our theme is built on top of WordPress. WordPress is the most popular CMS in the world with a combined 30% of the internet running on WordPress. WordPress allows you to install simple Plug and Play themes that do not require you to be overly technical. You can now build the store of your dreams without needing to have great programming or computer science skills.

Android App

– Our theme has an Android app. This app provides you with a lot of features such as:

Android Studio Projects –

Making an Android app does not have to involve many sleepless nights or a lot of money simply because you have to hire a professional. You can now easily make an Android app using the Android Studio, which gives you a plug and play environment. Getting your dream app is now within your reach.

Customizable Menus –

Our eBay theme is highly customizable, allowing you to design the type of menu and color scheme that you want. You can make your app in your own image and give your store a look that's unique to just you!

Social Share

– The social aspect of marketing has always been important in ecommerce. Our eBay WordPress theme takes this into consideration by integrating social share into the design. Now your users can share their purchases with their friends and promote your products further.

Google Analytics

–

It's important to be able to stay on top of the details and see the growth of your shop over time. This is where Google Analytics comes in. With a wide array of powerful tools to help you track your analytics, you never have to be in the dark about how your shop is doing. Our theme incorporates Google Analytics so you can enjoy all these features in a simplified environment.

Admob Features –

Another important point to consider is Ad revenue. Why focus on one stream of revenue when you can have more than one? Google Admob allows you to earn from advertisements that are displayed to your customers as they browse your app. The beauty of Admob is that it even allows you to choose how frequent and intrusive the ads are so your users don't feel spammed.

Multi-Language Support –

Reach out to users from different countries by offering your app in different languages. By offering multiple language support, we ensure that you can reach your users, no matter where they're from.
Why WordPress?
Our eBay WordPress theme is compatible with WooCommerce, which is powered by WordPress. One question you might have on your mind is: why WordPress? The answer is fairly simple. WordPress happens to be the most popular CMS in the world.
A majority of all blogs, websites, and ecommerce stores around the world are currently powered by WordPress, giving it a major advantage as the platform of choice for most people. WooCommerce also happens to power over 30% of online stores.
The direct result of this is that, due to the large scale adoption, WooCommerce is well optimized for ecommerce. All the themes, plugins and features you might need are already available within the ecosystem. Using one is as simple as plugging and playing.
WordPress as a platform is also extremely easy to use, allowing you to build beautiful and responsive websites without needing a treasure trove of technical knowledge. Anyone can build the website of their dreams with the platform of their dreams.
We offer a lot of different themes based on proven UI designs that guarantee good engagement from your users. Our eBay WordPress theme is built to perfection for you so that you can run your business without any headaches. Try it out today and see the difference it makes for your business.